World Data & Analytics Show is making its way to Singapore for its 5th global edition, bringing a spotlight on the ways data and analytics can bring value to businesses in the city-state. This gathering aims to highlight the latest developments and trends in the said field and demonstrate how organizations can leverage emerging tech to drive growth and improve business functions.
Singapore, Feb 21, 2023 – (ACN Newswire via SEAPRWire.com) – The data analytics market in Singapore has been growing rapidly in recent years due to the country's focus on digital transformation and adoption of technology. In the last two decades, Singapore has established itself as a hub for emerging tech in Southeast Asia, attracting international companies and startups to the city-state.
The government has been actively promoting the development of the data analytics industry, investing in research and development, and providing support to businesses in the form of grants and tax incentives. This has resulted in the growth of a thriving ecosystem of data analytics companies, solution providers, and service providers.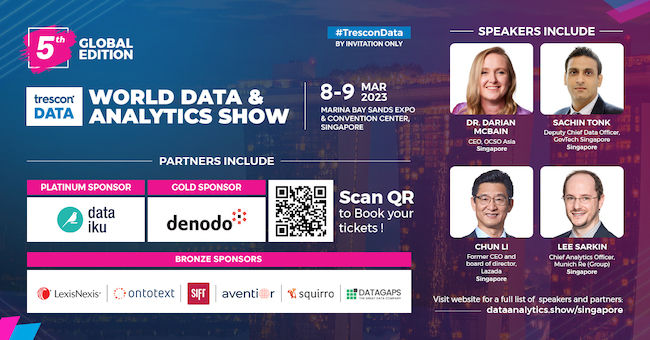 The 5th edition of World Data & Analytics Show, will be held in Singapore on 8th & 9th March 2023. It will bring together leading experts and data analytics leaders from around the world to discuss creating value with data and analytics with a focus on dynamics of business. The show aims to help organizations optimize their data potential and will feature two days of informative sessions with valuable insights, strategies, and frameworks for using data and analytics effectively.
"Whether you are involved in the tip-of-the-spear innovation or play a vital role in helping organizations forge a new world based on artificial intelligence solutions, data analytics, governance and regulatory compliance are key aspects which are vital to sustainable growth and success. The World Data Analytics Show will showcase the multi-dimensional nature of everything about data analytics, not only in terms of technological or operational insights, but also governance and compliance, culture, and ethics," said Jeffrey Lim, Director, Joyce A. Tan & Partners LLC
Commenting on the upcoming World Data & Analytics Show, Hemanth Prabakaran, Executive Director, Head – Data Analytics & Insights, Standard Chartered Bank says, "Very excited to meet all like-minded people who are eagerly looking forward to create the value for this world through use of data."
Themes in focus at the 5th edition are intended to assist data and analytics leaders in meeting demands and trends that are impacting and reshaping data-informed enterprises, as well as ideas that are igniting data innovation in several industry verticals. The event will also serve as a platform for captivating presentations, product showcases, panel discussions, and tech talks to discuss and explore the most recent challenges and applications of data-powered solutions. Attendees will have a better understanding of how to set up the structure and skills necessary to match with business goals and objectives and to leverage key trends in data and analytics.
"With the advancement in technology, every organization has lots of data. But having lots of data is meaningless, if we don't derive insights and knowledge from the data to make more informed decisions. The World Data & Analytics Show will give you the opportunity to listen to experts share on how they are using their data to make timely decisions, giving their organization a competitive advantage over their competition," said Prof. Carol Hargreaves, Director of the Data Analytics Consulting Centre, National University of Singapore.
World Data & Analytics Show will feature keynote speakers from some of the world's leading companies, including Standard Chartered, Bank of Singapore, DHL, Cigna, and many more.
Lineup of esteemed speakers include:
Darian Mcbain, CEO, Ocso Asia
Sachin Tonk, Deputy Chief Data Officer, GovTech Singapore
Benedict Tan, Group Chief Digital Strategy Officer & Chief Data Officer, Singhealth
Bryan Tan, Chief Scientist, Carro
Ram Kumar, Chief Data and Analytics Officer, Cigna
Chun Li, Board of Director, Lazada
Lee Sarkin, Chief Analytics Officer, Munich Re (Group)
Hemanth Prabakaran, Executive Director, Head – Data Analytics & Insights, Standard Chartered Bank
Judy Nam, Principal Solutions Engineer Director, Dataiku
Kirill Petro, Svp – Digital Assets, Crypto and Equities, Dbs
Ram Thilak Prem Kumar, Group Head – Data Science And Ai,Inchcape Plc
Han Leong Goh, Senior Principal Specialist, Integrated Health Information Systems (Ihis)
Michael Andrew, Director of Data Analytics, Zuellig Pharma
Dietman Böhmer, Chief Analytics Officer, Tyme
Simon Chater, Executive Director, Head of Data Management, Dbs Bank Ltd
Carol Hargreaves, Director Of The Data Analytics Consulting Centre,National University Of Singapore
Andrea Pisoni, Head of Data – Group Data Office, Ocbc Bank
Philip Weiner, Chief Data Officer, Bolttech
Steven Sim, Immediate Past President, Isaca Singapore Chapter
Ravi Gerald Vishwanath, Global Director: Analytics, AI, Process Automation, Kerry
Juliana Chua, Sr. Director, Global Digital Acceleration, Essilor Luxottica
Samuel Chu, Head of Data Science & Analytics, Singlife
Rajesh Nandakumar, Head of Technology, Asia Westpac Banking Corporation
Sujatha-Srinivasan, Head, Data Quality Management, Standard Chartered Gbs
Nikolay Novozhilov, Head of Data Science and Advanced Analytics, Bank of Singapore
Jeffrey Lim, Director, Joyce A. Tan & Partners LLC
Soumyajit Sarcar, Executive Director, Product Lead – Data Management and Information Insights, Nomura
Prerit Mishra, Head of Applied Analytics, DHL
Dylan Yap, Associate Director, Foundational Data and Analytics MSD
Patricia Mulles, Director and Global Head of Partnerships at She Loves Data And Founder, M & O Consulting
Bhagyesh Chaubey, APAC & EMEA Head – Data Quality & Stewardship, Personal Banking & Wealth Management, Citibank
"We're excited to convene experts and leaders from the data and analytics ecosystem to Singapore for World Data & Analytics Show. We look forward to exploring new ideas and discovering innovative solutions that can help advance the data and analytics industry in 2023 and beyond," said Naveen Bharadwaj, CEO, Trescon.
World Data and Analytics show is sponsored by:
Platinum Sponsor: Dataiku
Gold Sponsor: Denodo
Bronze Sponsors: LexisNexis | SIFT | Ontotext | Aventior | Squirro | Datagaps
About Trescon
Trescon is a global business events and consulting firm that provides a wide range of business services to a diversified client base. Trescon is founded and managed by a group of specialists with more than 8 decades of combined expertise in successfully developing business events, trainings and consulting for corporates, governments, associations and high-net-worth individuals across the world.
With a deep understanding of the realities and requirements of the growth markets we operate in – we strive to deliver innovative and high-quality business platforms for our clients.
For further details about the announcement, please contact:
Nupur Aswani
Head – Media, PR and Corporate Communications, Trescon
+91 9555915156 | media@tresconglobal.com
Copyright 2023 ACN Newswire. All rights reserved. (via SEAPRWire)