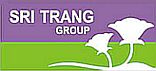 BANGKOK, Mar 6, 2023 – (ACN Newswire via SEAPRWire.com) – Mr. Somwang Sincharoenkul, founder of Sri Trang Agro-Industry PCL (STA), the parent company of Sri Trang Gloves (Thailand) (STGT), has passed away peacefully at his home in Trang province, Thailand, on 27 February 2023. He was 97.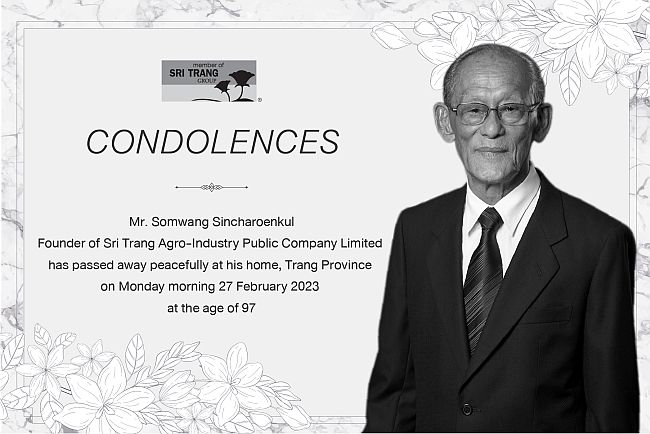 Sri Trang Agro-Industry Founder Somwang Sincharoenkul Passes on at 97
A luminary in the Thai rubber industry, Mr Somwang founded STA in 1987, and was instrumental in establishing the strong foundations for the Group's growth. Under his visionary leadership, STA has grown from its early days as a producer of ribbed smoked sheets in Hat Yai, to become the world's leading fully integrated natural rubber company with approximately 7,200 hectares of rubber plantations across 19 provinces in Thailand. The Group is also the world's largest producer of midstream natural rubber products, technically specified rubber (TSR), ribbed smoked sheets (RSS) and concentrated latex. STA went public on the Stock Exchange of Thailand (SET) in 1991, and successfully sought a secondary listing on the Singapore Exchange (SGX) in 2011. It currently has a market capitalization of about THB39.55 billion (SGD1.51 billion).
STA marked its expansion into the glove production business with the establishment of STGT in 1989. STGT was listed on the SET and made its debut on the SGX in 2021. The company has a market capitalisation of about THB31.80 billion (SGD1.22 billion) and ranks among the world's largest producers of latex and nitrile gloves today.
Mr Somwang retired as Chairman of STA, and was succeeded by his son Dr Viyavood, in 2010. He continued to serve as Sri Trang Group's honorary advisor until 2023. Mr Somwang is survived by four children, 11 grandchildren and three great grandchildren.
Mr Somwang's casket is currently lying at Kuanwisade Temple in Thap Thiang Sub-district, Mueang District, Trang Province. The itinerary of the Merit Making, Abhidhamma Chanting and Cremation Ceremony is as follows:
28 Feb (Tuesday) 03.00pm Bathing ceremony Abhidhamma chanting ceremony
1 March (Wednesday) 07.00pm Abhidhamma chanting ceremony
2 March (Thursday) 07.00pm Abhidhamma chanting ceremony
3 March (Friday) 07.00pm Abhidhamma chanting ceremony
4 March (Friday) 07.00pm Abhidhamma chanting ceremony
5 March (Saturday) 10.00am Buddhist sermon,
10.30am Buddha's Mantra Chanting, Offering food to the monks for lunch
12.00pm Matika Chanting and Bangsukun Chanting;
01.00pm Body to be taken around the temple's crematorium
Released by Public Relations Dept., MT Multimedia Co., Ltd. for Sri Trang Agro-Industry PCL
For additional information, please contact: Wasana 'Jeab' Wongsiri
T: +66 84 359 0659, +66 2 612 2081 ext.131; E: wasana.w@mtmultimedia.com
Sri Trang Agro-Industry PCL (STA), https://www.sritranggroup.com/en/home
[SET: STA; STA-R; STA/F] [SGX: NC2; STA] [XTR: YTAA] [OTCPK: SRGPF]
Copyright 2023 ACN Newswire. All rights reserved. (via SEAPRWire)