HONG KONG, Mar 24, 2023 – (ACN Newswire via SEAPRWire.com) – EC Healthcare (2138.HK) and New Horizon Health (6606.HK) host ceremony today to form an exclusive strategic partnership. Both parties will consolidate the resources to empower the launching, distribution, and promotion of CerviClear in Hong Kong. It is expected this home-use cancer screening product will help to increase the awareness penetration of Cervical cancer prevention, and achieve better prevention efficacy. Under the Partnership, EC Healthcare is the exclusive partner of New Horizon Health.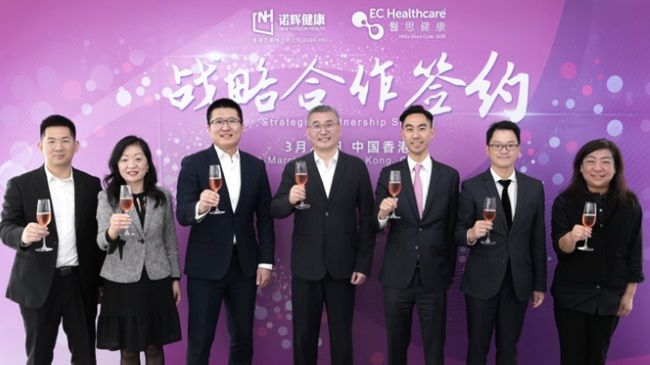 Left to right: Mr. ZHENG Weixian Senior Director of Operation management, New Horizon Health, Dr. Rita Shih Head of International R&D Center, New Horizon Health, Mr. Li Yan Vice President, New Horizon Health, Mr. Zhu YeQing Chairman and CEO, New Horizon Health, Mr. Leslie LU Executive Director and Co-Chief Executive Officer, EC Healthcare,Dr. Eric CHU Chief Business Officer, EC Healthcare, Dr. Julie CHOW Chief Proposition Officer (Healthcare), EC Healthcare
Cervical cancer is a common malignant tumor for women. The morbidity and mortality have been rising in recent years, with a notable trend of rejuvenation. Cervical cancer is also the only cancer with evident cause and can be eliminated through early intervention. Developed by New Horizon Health, CerviClear is the first Urine-based HPV Detection and Cervical Cancer Screening Test in the world . It is the only product comprehensively covering all 14 high-risk HPV virus and achieves non-invasive home-based urine self-sampling. The product has already obtained a CE Mark, and is qualified for launching in Hong Kong and the Greater Bay Area.
Mr. Leslie Lu, Executive Director and Co-CEO of EC Healthcare said, "We are glad to partner with New Horizon Health, a leading cancer screening company. The Group treasures strategic cooperation with upstream partners in the pharmaceutical field as the core strategy. Through collaboration with partners in biotech and pharmaceutical industry, the Group will further improve the preventive medicine market influence and further consolidate its industry leading position. This Partnership enables the Group to further diversify its service product mix by leveraging vaccination, health check and multiple medical specialties services to complete the one-stop ecosystem. We believe the collaboration will also accelerate the Group to achieve vertical integration of the industry value chain."
Mr. Zhu Yeqing, Executive Director and CEO of New Horizon Health said: "The effective way to promote the prevention of high-risk cancer is to provide convenient, reliable and compliant innovative screening products. CerviClear is the first product in the world that achieves urine self-sampling. Compared with the clinical examination, patients no longer needs to visit a hospital and the sampling procedure is non-invasive and painless. It is expected to significantly lower the time cost and pressure level for patients. EC Healthcare is the leading healthcare services provider in both Hong Kong and the Greater Bay Area. We are glad to partner with EC Healthcare and believe the partnership becomes a milestone for our pipeline and innovation commercialization."
About EC Healthcare
EC Healthcare is Hong Kong's largest non-hospital medical service provider*, leveraging its core businesses of preventive and precision medicine, and committed to developing medical artificial intelligence by integrating its multi-disciplinary medical services. The move, which is supported by the Group's high-end branding and quality customer services, is aimed at offering customers safe and effective healthcare and medical services with professionalism. The Group is a constituent stock of the Hang Seng Composite Index and the MSCI Hong Kong Small Cap Index.
The Group principally engages in the provision of one-stop medical and health care services in Greater China. The Group provides a full range of services and products under its well-known brands, including those of its one-stop aesthetic medical solutions provider DR REBORN which has ranked first in Hong Kong by sales for years, a professional hair care center HAIR FOREST, primary care clinics jointly established with health management centre re:HEALTH, a vaccine centre Hong Kong Professional Vaccine HKPV, General outpatient clinic Tencent Doctorwork, the largest one-stop pain management centre in Hong Kong New York Medical Group, the comprehensive dental centres Bayley & Jackson Dental Surgeons, EC DENTAL CARE and Health and Care Dental Clinic, an advanced diagnostic and imaging centre HKAI, an oncology treatment centre reVIVE, a day procedure centre HKMED, a specialty clinic PREMIER MEDICAL CENTRE, SPECIALISTS CENTRAL and NEW MEDICAL CENTER, a paediatric centre PRIME CARE, a gynaecology specialist ZENITH MEDICAL CENTER AND PRENATAL DIAGNOSIS CENTRE, PathLab Medical Laboratories, Ophthalmology Center VIVID EYE and EC Veterinary Hospital and Imaging Center.
*According to independent research conducted by Frost and Sullivan in terms of revenue in 2020 and 2021
About New Horizon Health
Founded in 2015, New Horizon Health is a pioneer and leader in China's cancer screening market, focusing on early home screening of high-incidence cancers, aiming to promote innovation in cancer screening technology and accelerate the popularity of cancer screening technology in China. On February 18, 2021, New Horizon Health was successfully listed on the SEHK with stock code 6606.HK, which became "the first listed Chinese cancer early screening company".
New Horizon Health has three marketed products. ColoClear, Pupu Tube and UU Tube have all been approved by the National Medical Products Administration of China and are officially commercialized. ColoClear is the only cancer screening product approved by the National Medical Products Administration of China for people aged 40-74 who are at high risk of colorectal cancer. UU Tube is the only consumer self-test product for Helicobacter pylori approved by the National Medical Products Administration of China. Pupu Tube is the first FIT at-home self-test device approved in China. In addition, the Company has three pipelines of products in development for liver cancer (LiverClear), cervical cancer (CerviClear ) and nasopharyngeal cancer screening. The Company has global rights to all of its marketed and pipeline products.
New Horizon Health works extensively with hundreds of hospitals, health check-ups, insurance companies, pharmacies and online channels. The Company has a class 100,000 clean production workshop that meets ISO13485 and ISO9001 international certification standards. The third parties medical testing laboratories in Beijing, Hangzhou and Guangzhou have been certified by international quality standards and the local health care commission and issued licenses to practice, with an annual testing capacity of 2 million people.
Copyright 2023 ACN Newswire. All rights reserved. (via SEAPRWire)