BAHRAIN, Mar 5, 2023 – (ACN Newswire via SEAPRWire.com) – Verofax, the leader in brand marketing and AI-powered solutions for enterprise, was featured on Beban 2 (Episode 9, Mar 1, 2023), the hit entrepreneur & investment-themed reality TV program airing on Bahrain TV, Alrai TV and Dubai TV, as well as Shahid, the region's largest video-on-demand platform.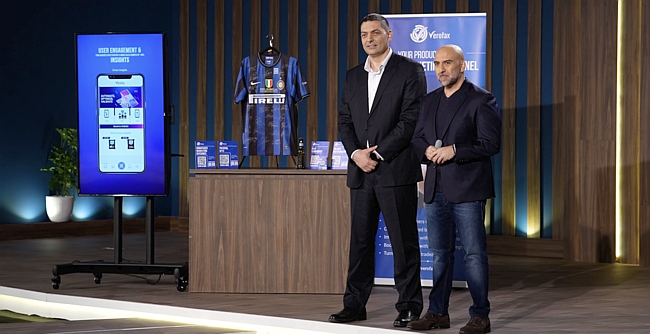 Wassim Merheby, CEO & Co-Founder, and Jamil Zablah, CMO & Co-Founder, Veromax, a product winning SaaS provider helping brands achieve growth by turning offline products interactive for immersive experiences & engagements.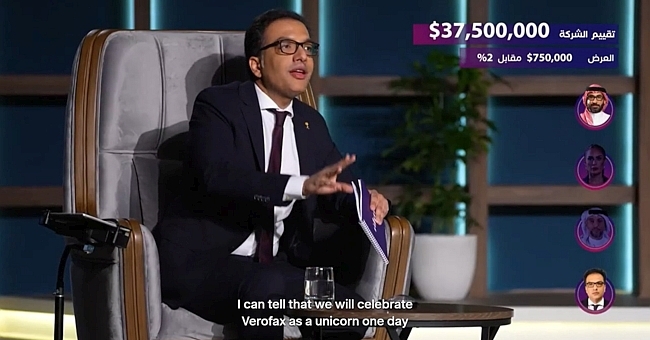 One of the four Professional Investors to be pitched during episode 9, Khalid Almahfouz was clearly impressed with the Verofax story, encouraging them. "I can tell that we will celebrate Verofax as a Unicorn one day."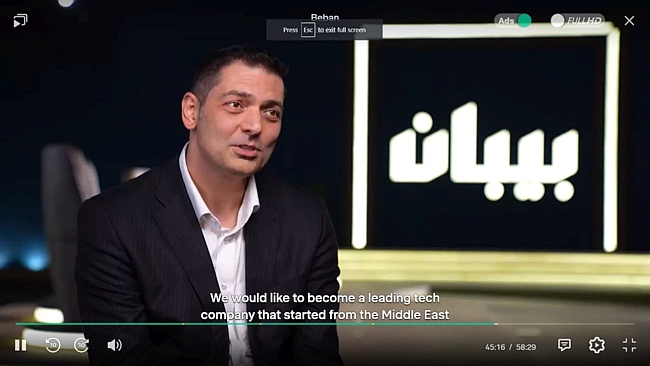 Beban Crowdfunding platform, for entrepreneurs to pitch retail investors. Wassim Merheby, Verofax CEO & entrepreneur, addressing Crowdfunding investors across the GCC, "We would like to become a leading tech company that started in the Middle East."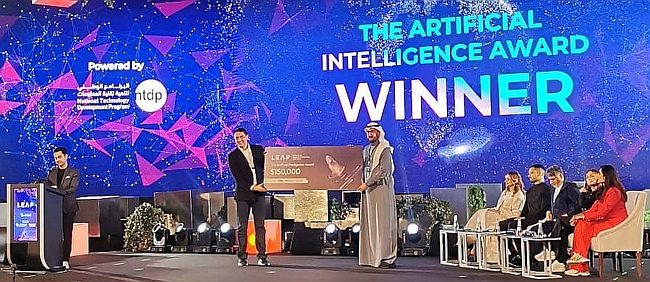 Verofax, winning award for ground-breaking Artificial Intelligence at LEAP Saudi Arabia (Feb 2023), announced setting-up in Ryadh, key 2023 growth market, with Saudi (MCIT) Tech Champions, a soft-landing accelerator powered by Plug and Play.

Beban is the world's first TV show to provide an interactive crowdfunding element – Beban Crowdfunding, a secure platform licensed and regulated by the Central Bank of Bahrain which offers retail and accredited investors a unique interactive access to private equity investment opportunities, such as Verofax.
GCC investors can participate in Verofax' US$750,000 fundraising round through the Beban Crowdfunding platform, with investments beginning as reasonably as $100. The new investors will be joining leading VC investors including 500 Startups, Dubai Angel Investors, Dubai Silicon Oasis, Benson Oak Ventures, Privity FZ LLE and Wami Capital.
An alumnus of government-sponsored programs MBRIF (Mohammed Bin Rashid Innovation Fund & Accelerator) and Hub71, the UAE-based Verofax is a growth-stage startup serving a diverse clientele including Fortune 100 brands and sustainable enterprise through operations in Europe, North America, Asia, Africa and the Middle East.
Verofax recently won the award for ground-breaking use of Artificial Intelligence at LEAP Saudi Arabia (Feb, 2023), and announced the setting-up of operations in Ryadh, a key growth market for 2023, with the Saudi Ministry of Communications and Information Technology (MCIT) Tech Champions, a soft-landing accelerator powered by Plug and Play.
Wassim Merheby, CEO of Verofax, said "Participating in the Beban program provided us with a platform to showcase our technology, and through the Beban Crowdfunding Platform, to offer retail investors an opportunity to invest in our solutions which disrupt online marketing, and deliver unmatched results to customers and amazing experiences to end consumers.
"Investors in Verofax will benefit from the potential disruption to online marketing, and turning the products into a brand's best marketing channel. At Verofax, our aim is to empower brands to connect with their customers in new and innovative ways," said Merheby.
Fatima Al Naqbi, Chief Innovation Officer at the Ministry of Finance and MBRIF representative, said: "We are thrilled to see such progress at Verofax, a company that we have proudly supported throughout its growth journey. Moreover, it's exciting to offer retail investors the chance to share in the growth of a dynamic company, transforming the online marketing industry through its innovative solutions.
"MBRIF is committed to accelerating innovation by providing startups with the necessary resources to achieve the goals of expansion and growth. Through our Accelerator program, we offer tailored support, paving the way for these companies to succeed. Our role in Verofax' journey is testament to our unwavering support of innovative and ambitious companies as they strive to impact the community. We look forward to continuing our support," said Ms Al Naqbi.
Verofax has developed a proprietary, patented AI-powered product winning service that provides enterprises with increased supply chain transparency, reduced operational cost, and enhanced customer engagement. By leveraging Verofax' award-winning, scalable technology with low-cost rapid deployment, businesses can begin to accrue benefits immediately with:
* MarTech solutions: Turning every product into an interactive direct communication channel to consumers, allowing brands to acquire and retain customers by providing relevant and personalized recommendations. By simply scanning unique identities on primary packaging, brands can convert the 60% of consumers that decide on a purchase in multi-branded stores while lowering acquisition costs by 20X vs. online marketing channels.
* Web3 rewards: helping brands to build lasting relationships with consumers and increase Customer Lifetime Values (CLTV) by adopting Web3 rewards such as brand NFTs that cost a fraction of loyalty programs.
* Retail and eCommerce virtualization: Delivering immersive and personalized shopping experiences with in-store Augmented Reality and 3D shopping experiences in e-commerce marketplaces, offering delight to 83% of consumers that expect an upgraded shopping experience vs. the current flick & click experience.
* Supply Chain transparency: providing brands with end-to-end inventory traceability to optimize availability and prevent price dilution. Counterfeiting and product diversion eats up to 30% of some industries, damaging brands' reputations and posing severe threats to public health.
* Sustainable passporting: Helping brands become sustainable by measuring and certifying their products across complex multi-tiered supply chains and engaging directly with consumers for loyalty and advocacy.
Verofax' solution is validated and available on partner platforms, including Oracle, Microsoft, Ant Group, Zebra, SAP and AWS. Discover the benefits of partnering with Verofax at www.verofax.com.
Investors interested in learning more about the fundraise and participating in Verofax' journey through the Beban Crowdfunding platform should visit the Beban website at www.beban.me, and refer to the Verofax crowdfunding page at www.beban.me/campaign/verofax-.
Contact Verofax, and register for social updates:
Website: https://verofax.com/contact-us/
Instagram: https://www.instagram.com/verofaxltd/
YouTube: https://www.youtube.com/@verofaxlimited8482
Promo Video: https://youtu.be/tmekYUuRDjI
FaceBook: https://www.facebook.com/verofax
TikTok: https://www.tiktok.com/@verofaxlimited
Twitter: https://twitter.com/VEROFAXLTD
LinkedIn: https://www.linkedin.com/company/verofax-limited/
About Verofax
Verofax is the leader in product digitization, providing innovative solutions that empower brands, retailers, and governments to secure supply chains and transform customer engagement. Utilizing latest technologies such as blockchain and AI, Verofax offers a comprehensive suite of tools, immersive omni-channel consumer engagement and compliance validation. By leveraging the Verofax solution, brands can ensure supply chains are compliant and sustainable and customers are engaged through every step of the product lifecycle. Please visit www.verofax.com.
About MBRIF Accelerator
The MBRIF Innovation Accelerator program focuses on innovation and cooperation and provides world-class services and training to founders to accelerate their business, raise capabilities and expertise, boost standards, and create added value. Its objectives are in line with the Dubai National Innovation Strategy as it aims to help innovative companies realize their potential and contribute to shaping the future of the national economy. Visit www.mbrif.ae.
For additional information, visit:
CB Insights: https://www.cbinsights.com/company/verofax
CrunchBase: https://www.crunchbase.com/organization/dhonor
StartUp Buffer: https://startupbuffer.com/startup/verofax-limited
Copyright 2023 ACN Newswire. All rights reserved. (via SEAPRWire)